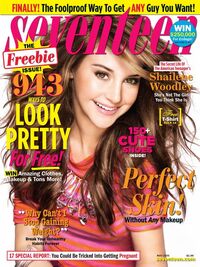 "Secret Life's" own Shailene Woodley (Amy Juergens) will be featured on the cover of Seventeen magazine's May issue, hitting newstands April 13! Mark your calendars, Secret Life fans! Exclusives include: Shailene talking about her life off the set, her adventurous spirit, and falling in love for the first time. I can't wait to read all about Shai!
Ad blocker interference detected!
Wikia is a free-to-use site that makes money from advertising. We have a modified experience for viewers using ad blockers

Wikia is not accessible if you've made further modifications. Remove the custom ad blocker rule(s) and the page will load as expected.