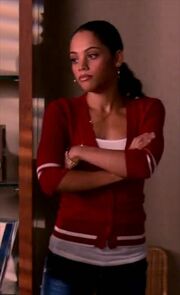 Shawna
General Information
Gender:
Female
Age:
23
Hair Color:
Black
Eye Color:
Brown
Birthday:
February 1988
Address:
California
Family & Friends
Family:
Duncan (brother)
Relationships:
Jack Pappas (ex-boyfriend)
Enemies:
Grace Bowman
Other Informations
Interests:
Entertaining younger guys
Series Information
First appearance:
That's Enough of That
Last appearance:
Whoomp! There It Is
Shawna is the older sister of Duncan. She briefly dated Jack, but decided he was too young for her. They broke up in "Whoomp! (There It Is)" which is the 21st episode of season 1. She is portrayed by Bianca Lawson.