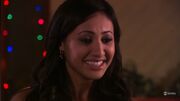 Poppi's Taco's is a restaurant that serves great Mexican food that Adrian was craving in Guess Who's Not Coming to Dinner. She tells Reuban and Cyndi that Ben loves Poppi's as much as she does and Ben claimed that Adrian wanted to save him money by going there for dinner but really she just wanted to have good Mexican food.
Ben rents out the whole restaurant for them and Adrian's parents meet him there to tell him that he's allowed to propose to Adrian. He proposed to Adrian at Poppi's Taco's, and it is also there that Adrian feels the baby move for the first time.
Ad blocker interference detected!
Wikia is a free-to-use site that makes money from advertising. We have a modified experience for viewers using ad blockers

Wikia is not accessible if you've made further modifications. Remove the custom ad blocker rule(s) and the page will load as expected.