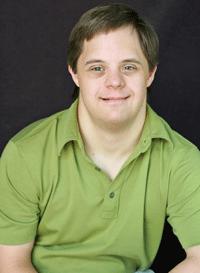 Luke Zimmerman (born c. 1980) is an American actor with Down's Syndrome who is best known as the role of Tom Bowman, the brother of Grace Bowman, on ABC Family's The Secret Life of the American Teenager. He is also starring as himself in the new movie LIFE.
Biography
Edit
Luke Zimmerman is currently a student at Performing Arts Studio West. Zimmerman has Down Syndrome, but did't let that discourage him from acting. Luke played Romeo in the play Romeo and Juliet and performed in a 1990 television movie drama Daughter of the Streets, playing Andrew alongside Roxana Zal, Harris Yulin, John Stamos. In 2007, Zimmerman tried out for The Secret Life of the American Teenager, which aired in July 2008. He portrays Tom, a caring character who does not live with his biological parents.
Ad blocker interference detected!
Wikia is a free-to-use site that makes money from advertising. We have a modified experience for viewers using ad blockers

Wikia is not accessible if you've made further modifications. Remove the custom ad blocker rule(s) and the page will load as expected.