|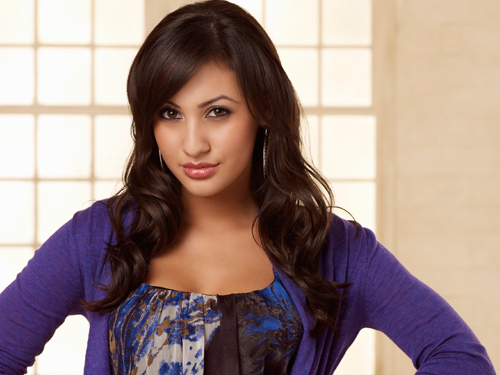 Born = October 9, 1992
Adrian=the school slut
The secret life of the American teenager
|first episode = Falling in Love
|portrayed by = Francia Raisa
|family = Ruben Enriquez (Father)
Cindy Enriquez (Mother)
Ruben's Son (Half-Brother)
Mercy Boykewich (Daughter with Ben; stillborn) †
Unnamed children (with Omar) |romances = Omar (Husband)
Dante (Hook up)
Ben Boykewich (Ex-Husband)
Ricky Underwood (Ex-Boyfriend)
Max (Ex-Boyfriend)
Antonio (Ex-Boyfriend)
Jack Pappas (Fling)
Henry Miller (One-Night Stand)
Grace Bowman (Kissed) Mac (Hook-up) Was the school thot |last episode = Thank You and Goodbye
|occupation = Student and Mother
Adrian Lee Enriquez is the daughter of Ruben Enriquez and Cindy Enriquez (who were teenage parents themselves); wife of Omar; former wife of Ben Boykewich; ex-girlfriend of Ricky Underwood, Antonio, and Max; and best friend of Grace Bowman. She is portrayed by Francia Raisa. She is one bad kid but knows how to care for her friends.
Relationships
Edit
Omar Ben Ricky jack(briefly)
First relationship:
Second relationship:
Third relationship:
Reason: Omar doesn't want to be alone in New York unmarried
Fourth Relationship:
Start: 2013
Engagement: Unknown
Marriage: Unknown - present

Adrian and Omar are happily married, living in New York with two children (Revealed by Brenda Hampton).
First relationship:
They have an on/off relationship. They're like "friends with benefits", although, she cares very deeply for him. She asked Ricky for a committed relationship, but Ricky cheated on her. Adrian is often jealous of girls Ricky hangs out with (Amy or Grace), it seems like they're a match made in hell. But, Ricky became more serious as the series progress when Amy gives birth to their son, John.
When this happens, Adrian tries to become serious about their relationship, but Ricky does not. In the end, he cheats on her with Zoe, which makes her break the huge front window of the butcher shop with her phone. She forgives him even though he doesn't really apologize.
Adrian asks him to do one thing and not have an encounter with Amy, if it has nothing to do with John. Ricky once again sees this as a challenge, and kisses Amy. He uses the excuse that it was not his fault and they were only practice kissing. He also does not tell Adrian, who finds out from her father, who found out from George, who found out from Ashley who was watching.
This kiss angers both Adrian, and Ben who also asked Ricky not to fool around with Amy for the sake of their very shaky friendship.
Ben finds out when he attempted to get back together with Amy on the night of the "Mother Daughter Dance." She tells him and he goes to his car. Adrian approaches and with this incident, they both decide to have sex.
Adrian takes Ben's virginity and she is impregnated with a condom she got from Amy earlier that night. Although she was on birth control, her body had not yet gotten used to the new prescription.
First Relationship:
Start: The Rhythm of Life (2x19)
End: The Rhythm of Life (2x19)
Second Relationship: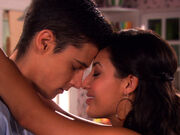 Adrian and Ben started to have an intimate relationship when they both wanted to get back at Amy and Ricky because of a kiss. Adrian primarily wanted this because of a promise Ricky made not to cheat on her after she had already forgiven him for cheating once, however it was already admitted by Adrian to Grace she intended to sleep with Ben even though he and Amy were no longer dating.
After getting back at them, Adrian finds out she is pregnant and tells Ben. They begin spending time together and developing a relationship. They eventually get married and move in together.
In the season three finale, "Or Not To Be," Adrian gave birth to their stillborn daughter, Mercy. Ben and Adrian got to hold her. The experience scarred her deeply, as she was truly excited and looking forward to being a mother. This event leaves both her and Ben distraught.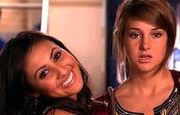 Adrian and Amy shared a little rivalry competing with who will get married first, who will live together first, and who is better at sex and who is a better mother.
They both give others tips on how to get closer to their man because of past relationships. They also have the power to make each other insecure.
Adrian tries to persuade her to stay with Ben and her father tries to make them become friends, but neither of these things quite work out in the way everyone wanted. As much as both try to become friends though, they're not the best of friends but are still pretty good friends.
In the Season 3 finale, Amy was there to comfort Adrian after her daughter, Mercy was stillborn after Ben begs for her to do it.
Adrian and Grace are best friends (somewhat like sisters) in the show talking to each other on the phone and every morning at school. She was also the cause of Grace and Jack break up, among other things including Jack's infidelity.
Grace also dated Ricky Underwood, but broke up with him also when she discovered he was sleeping with Adrian while they were together.  Adrian and Grace are really close friends who are always there for each other.
Also Adrian is always looking out for Grace, however Grace is not always a good friend which was exhibited when she left on a trip to Africa despite the fact Adrian was still devastated over the loss of her daughter. Grace kept in contact with her through phone, email, texting and video chats. 
When Grace learns of her father's infidelity and his son Jacob (that he fathered while in Africa), Adrian helps Grace accept his mistake and her new brother because the mistake was made by her father not her brotherhood.
Ashley said her majorette uniform was much shorter than the other majorettes' uniforms. (The Secret Diary of Ashley Juergens)
She has been married to Ben and was engaged to Omar.
She apart from Ricky has slept with the most people on the show including Ricky and Ben, the two most important people. 
Her best friend is Grace.
She found her father, in season 1 and in the beginning he did not want anything to do with her.
She was in a competition with Amy.
She is very smart, but chooses to hide it due to wanting to keep a reputation.
She lost her virginity to her best friend whom she loved.
She gave birth to a stillborn child, Mercy Boykewich.
Her mom had an affair with Amy's dad in season 1.
She and Ben slept together when both had been hurt and angry after learning Ricky and Amy kissed.
She and Ben started dating to see if they could fall in love with each other.
She and Ben were married before their daughter was born.
She is a majorette.
Her daughter's name was Mercy.
Has a fear of heights and bugs.